Thursday, March 16, 2017
Book Review: Haunted by the things you love (John Zaffis and Rosemary Ellen Guiley, 2014)
By Kyle Van Helsing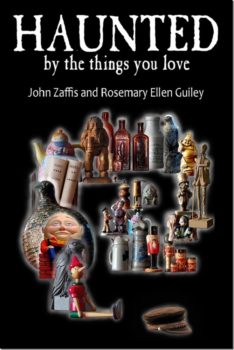 A couple of years ago, I received a book from my good friend and paranormal expert, Rosemary Ellen Guiley. The book in question is called Haunted by the things you love (Visionary Living, Inc., 2014), and is written by demonologist John Zaffis and Rosemary Guiley. This book is all about haunted objects, which is an endlessly fascinating subject. I myself have encountered a haunted doll by the name of Robert, and it was truly a strange experience. However, the objects described within this volume have much more violent spirits and disturbing histories attached to them, as we shall soon see.
In this book, some of John's most frightening and disturbing cases are recalled and examined in great detail, sometimes to the point of morbidity (which just makes it even more interesting). Some of them are short, while the others are quite long. John and Rosemary's research and their attention to detail are painstakingly thorough, and are based in the two's decades of experiences with supernatural forces. It is simply amazing that they have managed to survive (mostly) unscathed! Prepare yourself, for within these pages is the stuff of nightmares.
Click here to continue reading the review…
See March book sale special in the SHOP to get a copy of Haunted by the Things You Love autographed by both John and Rosemary!