Black scrying mirrors for contacting the dead and doing psychic work are available in the shop. "Scrying" is an old English term for "to discern dimly," and refers to gazing into a shiny surface for activating the third eye. Our black mirrors are made by us in a careful process that involves working during the waxing moon (psychic work is a lunar faculty) and infusing the mirrors with healing energy and sacred sound.
We teach black mirror workshops all over the country. Most people use them to contact the dead. They can also be used to look into the past and future, make contact with spirits, and develop the psychic faculty.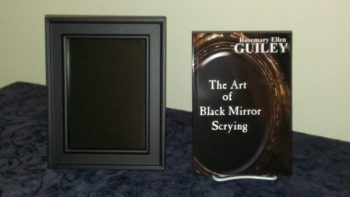 The mirror you will receive has a 5×7-inch glass surface and a solid wood black frame (some have gold accents).
In addition, you will receive Rosemary's guide book, The Art of Back Mirror Scrying, which explains how to use the mirror, what to expect, how to interpret results, and how to improve your ability.
You get both for $45! The book alone is $12.95, making the package a get value price!
Shipping is $16 for Priority Mail. Due to the high costs of shipping internationally, we only take domestic U.S. orders.
Click on the shop page and get your mirror and guidebook today!